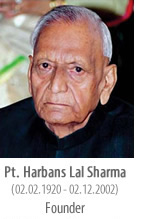 H.R. International, a recognized Export House approved by Government of India is an ISO 9001:2015 certified company and a pioneering part of HR Group. The corner stone of this company was laid in 1950 by a legend visionary, it's reverend Chairman Mr. Harbans Lal Sharma, an ex-Air Force Officer. The company though had a modest start, is today the highest exporter and manufacturer of handtools in India. Because of quality it has created a niche in the temple of name and fame, our company has created a stir and sensation in the world and has an invincible position in the global market.
Following the footsteps of it's legendary founder Late Mr. Harbans Lal Sharma, the company is striding and making much headway under the dynamic stewardship of Naresh Kumar Sharma and Shivam Sharma supported by a highly techno savvy team working with fanfare and effervescently. The team has vast technical knowledge and also has worldwide experience in establishing relationship with customers.
H.R. International has a remarkable and exceptional infrastructure, latest machinery, CAD/CAM systems, CNC Tool Room, an ultramodern and par excellence Research and Development wing, a well-equipped Testing Laboratory and splendid packaging centre. Our trusted and chief products are Spanners, Pliers, Pincers, Ratcheting Wrenches, Adjustable Wrenches, Vices and Wrecking Bars etc. which are under well-established norms of the manufacturing and emphasis is laid on customer's satiety and safety norms.
The company is overarching in selling these products worldwide in enthralling packaging to the complete contentment of its customers. Commitment to resplendent in quality and new concepts have given our company a matchless podium in the world. We are fully ISO Certified Company. With the sheer force of quality H.R. International will continue to endeavour to maintain this level of excellence and we hope that our products will remain under the sheen till eternity.
Message from the Managing Director
H.R. International is a trusted and eminent name in the professional handtools market and has been manufacturing classic as well as modern handtools since 1989. We have been burning midnight oil to maintain our quality level to generate ageless relationship with our international customers. Our team has one volition and we focus on one target – "Customer Satisfaction".
Quality is in the nerves of our company and we leave no stone unturned to satiate our customers. We have honed and chiseled our core strength to play a vital role in the changing business milieu. Our courage, strength, power, energy and enthusiasm are due to the contribution of our customers and we reciprocate in the form of complacency and satisfaction.
I express my debt of gratitude to our valuable customers. I look forward with profound interest to new business ties. Once again, I thank you all, deeply and dearly.